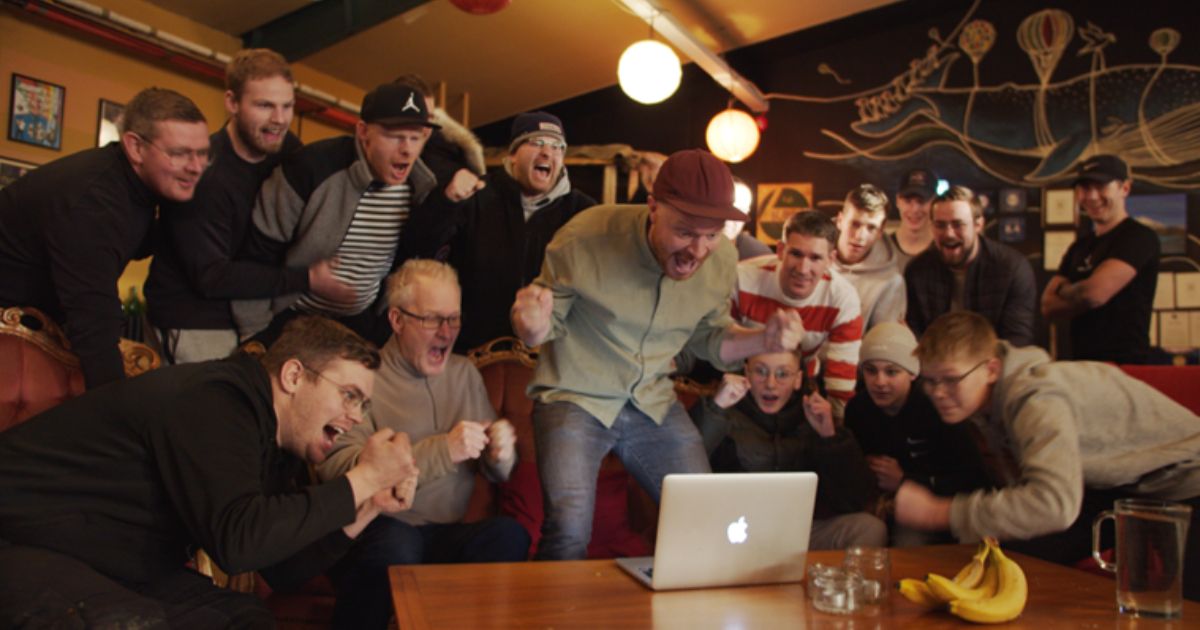 Summary
The Home Game is a heartwarming documentary that showcases the power of sport via a small Icelandic village, highlighting the importance of grassroots football.
The film follows the journey of one determined man and his community as they work together to create a competitive football team and compete in the country's FA Cup competition.
Through its depiction of everyday people pursuing their dreams, The Home Game serves as a love letter to soccer and sheds light on the positive aspects of the sport often overshadowed by corruption and capitalism.
The iconic UK football manager Bill Shankly once claimed that, "Some people think that football is a matter of life and death; I can assure you, it's much more than that." That quote has pulsated through the veins of the footballing world for decades, and unbeknownst to him at the time, Shankly would capture the very essence of what this sport means to millions around the world, especially the sentiment of those involved in Smari Gunn and Logi Sigursveinsson's documentary, The Home Game.
A global language, this game, built on a simple premise of 22 people competing on a field by trying to kick a spherical ball into two nets, has often possessed the power to transcend sport. Soccer has the capacity to create cherished memories, educate, and inform, as well as form entire communities over one, shared love. Once poignantly dubbed "the beautiful game," this tired cliché of choice is now employed as guise for a more sinister side of football, with the professional game governed by corruption, nation states, and stone-cold capitalism. But on a smaller scale, soccer can truly still be a beautiful game, something seen in this new international documentary.
The Home Game is a delightful low-budget Icelandic documentary that couldn't be further removed from the cash-rich, morally bankrupt propensities of professional soccer, and follows the tale of the reformation of a rural Icelandic village's football team, whose aim is to compete in the country's FA Cup competition on home soil for the first time in their history. Hellissandur, a remote fishing town in the West of Iceland, is home to a population of just 369 people and to the area's football team, Reynir FC.
Related: 10 Must-Watch Sports Documentaries
This sleepy, rather unremarkable town is the birthplace of Kari Gylfason, a 30-something father of one, who seeks to complete what his father could not 25 years earlier when he first established the club. Losing 10-0 in their first and only FA Cup game, Kari must fashion a half-competent soccer team out of the community's willing and able-bodied — a tall order considering the limited pool of players and the extremely harsh Icelandic conditions. But passion prevails.
This charming documentary restores faith in football, and the humanity that can still be located within it, even in the most understated and bucolic pockets of society. The proverb "It takes a village to raise a child" is certainly apt, or at least, it takes a village to field a football team, with Kari relying on a truck-load of volunteers to help organize this operation from relaying the pitch to printing new kits.
Related: Best Soccer Documentaries, Ranked
Many great sports documentaries usually cover the miraculous, the extraordinary and the downright absurd. These unique avenues of storytelling tend to center around unprecedented sporting triumph or the depths of despair in the often unforgiving climate of competitive sports, as seen in the likes of Netflix's brilliantly unconventional sports drama, Sunderland 'Til I Die and Prime's All or Nothing.
However, in the instance of The Home Game, there is a real air of prosaic everyday-ism to the tale. This is a depiction of a type of success not found in between the jaws of victory, but in the perseverance and unwavering attitude of the people at its very heart. The Home Game depicts football in its purest, most unadulterated form. While it follows the preparations for Reynir's home tie, its nucleus lies within Kari and his father's steadfast dedication and spirited attitude when pursuing this ever-elusive dream.
The Home Game is essentially a love letter to soccer, and to the frequently overlooked importance of the grassroots level of the sport. While questions can certainly be raised over the documentary's 78-minute runtime, which, for storytelling purposes, feels unnecessarily elongated, this is a heartwarming story that gives the sport some much-needed positive press after several years of seemingly perpetual negativity.
The Home Game was an official selection of DOC NYC 2023. Watch this space for more information about The Home Game's wider release
In conclusion, this film has captivated audiences with its mesmerizing storytelling, compelling performances, and stunning visuals. It has transported us to worlds both familiar and unknown, evoking a range of emotions that have left a lasting impact. The director's artistic vision and the collaborative efforts of the cast and crew have brought this story to life in a truly extraordinary way. From the gripping plot twists to the heartfelt moments of connection, this film has reminded us of the power of cinema to inspire, entertain, and provoke thought.
Whether you're a fan of the genre or simply a lover of great storytelling , this film is not to be missed. It's a testament to the magic of filmmaking and serves as a reminder of the profound impact that movies can have on our lives. So grab your popcorn, sit back, and immerse yourself in this cinematic masterpiece.