Classic British Folk Horror The Blood on Satan's Claw is getting a 4K UHD Blu-ray release from 88 Films.
Devil in the 4K UHD Details
The story of The Blood on Satan's Claw sees the accidental unearthing of Satan's earthly remains, which causes the children of a 17th-century English village to convert into a coven of devil worshipers.
The Blood on Satan's Claw was first released in 1971 and was directed by Piers Haggard, who also helmed 1981's Snake on the Loose thriller Venom and The Fiendish Plot of Dr. Fu Manchu. The film starred Patrick Wymark (Repulsion, Witchfinder General), Linda Hayden (Taste the Blood of Dracula), Barry Andrews (The Spy Who Loved Me), and Wendy Padbury (Doctor Who).
You can check out some of the extras 88 Films' Blood on Satan's Claw 4K UHD release will have below.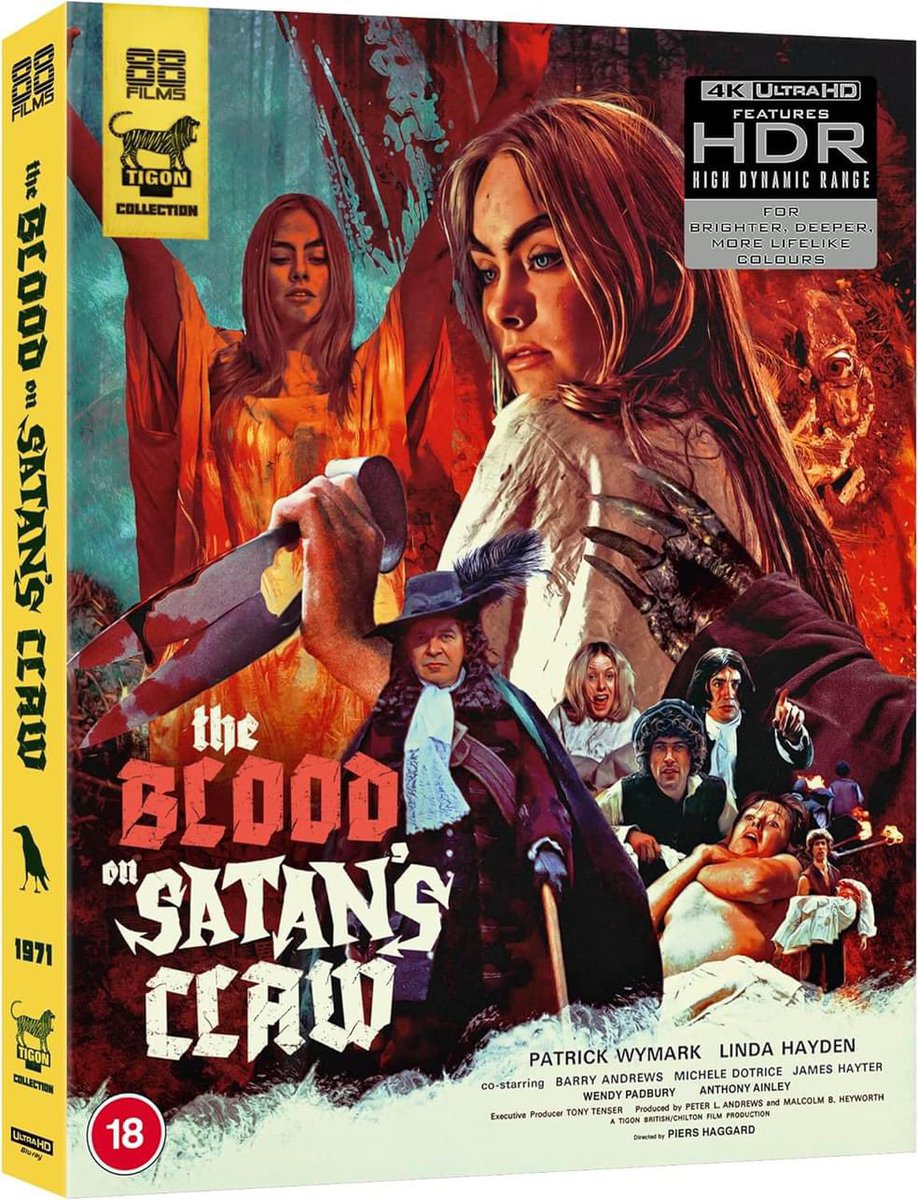 Brand new 4K Remaster from the Original Negatives presented in Ultra High Definition (2160p) in 1.85:1 Aspect Ratio Presented in Dolby Vision High Dynamic Range (HDR10 Compatible)
High Definition (1080p) Blu-ray in 1.85:1 Aspect Ratio
LPCM 2.0 English Mono Optional English Subtitles
Audio Commentary by director Piers Haggard actress Linda Hayden and writer Robert Wynne-Simmons
Audio Commentary with British Film Experts Vic Pratt and William Fowler
Satan's Skin – Robert Wynne-Simmons on The Blood on Satan's Claw The Devil's Business – Wendy Padbury on The Blood on Satan's Claw
Folk Horror – Kier-La Janisse on The Blood on Satan's Claw Tigon
Tales of Terror featurette with Michael Armstrong, Piers Haggard, Christopher Neame, Tony Tenser, and Ian Ogilvy
Reviving Forgotten Horrors – Interview with Piers Haggard
Folk Tale – An Interview with Actor Simon Williams
Folk Art – An Interview with Set Dresser Milly Burns
Folk Sound – – An Interview with Sound Recordist Tony Dawe
Folk Music – An Interview with Composer Marc Wilkinson
Folk Dub – An Interview with Assistant Dubbing Mixer Graham V. Hartstone
Folk Promo – An Interview with Publicity Director Tony Tweedale
Return to Bix – Simon Williams Returns to the Church Location Theatrical Trailer Reconstructed Trailer
You can now pre-order The Blood on Satan's Claw 4K UHD Blu-ray. It will be released on March 25, 2024.
In conclusion, this film has captivated audiences with its mesmerizing storytelling, compelling performances, and stunning visuals. It has transported us to worlds both familiar and unknown, evoking a range of emotions that have left a lasting impact. The director's artistic vision and the collaborative efforts of the cast and crew have brought this story to life in a truly extraordinary way. From the gripping plot twists to the heartfelt moments of connection, this film has reminded us of the power of cinema to inspire, entertain, and provoke thought.
Whether you're a fan of the genre or simply a lover of great storytelling , this film is not to be missed. It's a testament to the magic of filmmaking and serves as a reminder of the profound impact that movies can have on our lives. So grab your popcorn, sit back, and immerse yourself in this cinematic masterpiece.