Summary
Mystery Science Theater 3000 is crowdfunding for season 14, and you can help fund more episodes and be part of the production process.
The new season will feature sci-fi movies like Plan 9 from Outer Space, Battle Beyond the Stars, and Deathsport.
Fans who donate to the campaign can get perks like merchandise, box sets, and even the opportunity to be an associate producer and visit the set.
Mystery Science Theater 3000 is a downright institution, having belonged to first public television, then Comedy Central (known as the Comedy Channel at the time), the Sci-Fi Channel, and Netflix for different seasons. It became unleashed and free from any network when original co-creator Joel Hodgson bought the rights and began crowdfunding so that the fans could actually help shape the show. That was how the delightful season 13 was birthed into existence, which brought back Jonah Ray, Felicia Day, and Patton Oswalt in their wonderful roles, and included the wonderful addition of Emily Marsh and Hodgson himself.
Another crowdfunding campaign has begun, this time for season 14. In addition to the 48-hour Turkey Day Marathon with 24 classic MST3K episodes, Hodgson and the show's writers have been actively engaging with fans and participating in MST3K watch parties together online. The third and final watch party of the campaign will be on Tuesday, Nov. 21, at 8 PM Eastern and will include Hodgson and the writers in the livestream of MST3K's very first Halloween episode, The Mask (a 1961 film). Hodgson has also announced three of the wonderfully cheesy movies that they will cover in season 14, including one of the all-time so-bad-it's-good flicks, Plan 9 from Outer Space. It should be incredible — what took them so long? Hodgson announced the news on the crowdfunding site:
MST3K is proud to finally riff the movie that started it all; the movie that won the Golden Turkey Award for "Worst Movie of All Time," but we'll leave that to the audience to decide. It has since gone on to be deified in Tim Burton's wonderful Ed Wood, and it features Tor Johnson ("Time for go to bed."), Vampira, and a hint of Bela Lugosi.
Related: The 10 Best Episodes From Mystery Science Theater 3000, Ranked
MST3K Season 14 Has a Focus on Sci-Fi Movies So Far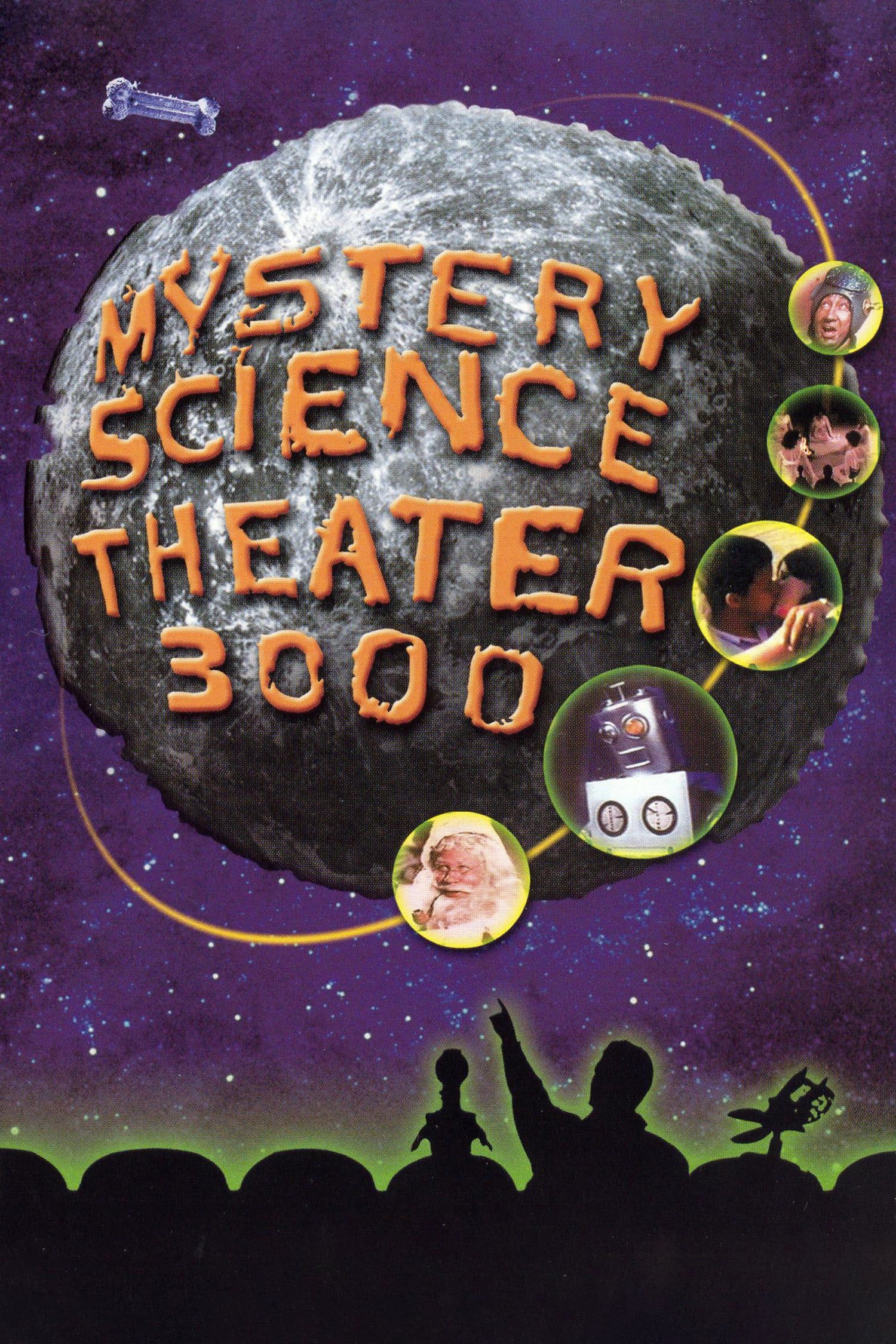 Mystery Science Theater 3000
Release Date

November 27, 1988

Cast

Michael J. Nelson, Kevin Murphy, mary jo pehl, Bill Corbett, Joel Hodgson, Jonah Ray, Felicia Day, Patton Oswalt

Genres

Comedy, children, Sci-Fi

Seasons

13
In addition to Plan 9 from Outer Space, Hodgson has announced a couple of other titles, and the three films are predominately science-fiction. In addition to Ed Woods' bad classic, there's Deathsport and Battle Beyond the Stars, two sci-fi action flicks. Hodgson told us about two of these other movies he wants to include in season 14:
So far, we announced Battle Beyond the Stars, which is a really charming, dreamlike Star Wars rip off. It's really neat. And then after that, we announced Deathsport, which stars David Carradine. It's just like Death Race 2000, but it's modern. It's Death Race on motorcycles, basically.
Hodgson described Deathsport to his fans, writing, "Kaz (David Carradine) is captured by the evil Lord Zirpola (David McLean) and is to compete in his lethal sporting game, Deathsport, which has no relationship with Death Race 2000 (also starring Carradine). This movie appears to be filmed in and around a vacant lot outside of Chatsworth, CA. It also features an overabundance of stunts on 'destructocycles,' if you can believe that."
The crowdfuning effort has reached $1.7 million, but needs fans' help to fund more episodes. As Hodgson writes, "We need to keep pushing to reach our $4.8m goal!" That would be the minimum for six episodes of season 14, and more money would allow more production goals, as laid out in this chart: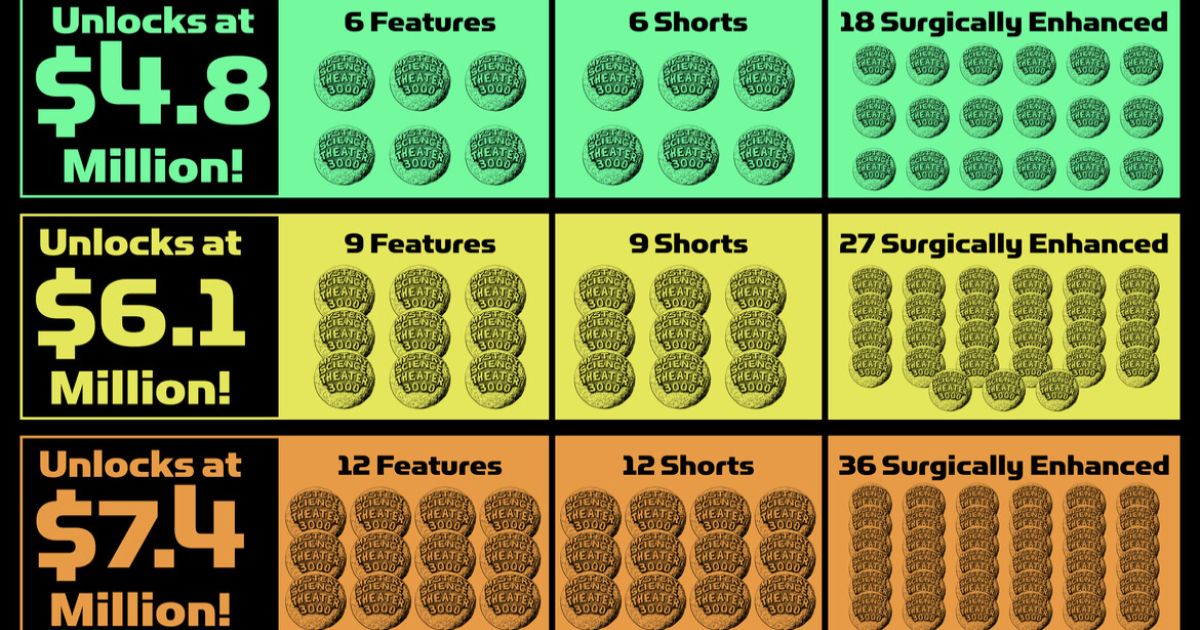 There are a variety of perks and rewards people can get for donating, including merch and clothing, home media box sets, the inclusion of your name in the credits, and some much bigger perks. Hodgson explained:
"We are adding a few more Associate Producer rewards, since the first round sold out on the very first day of the campaign. At this level, you'll get to join me for a series of production update meetings via Zoom, and you'll also receive a signed script and an exclusive gift. Best of all, you'll get to join us during production for an in-person set visit, as well as see your name in the credits as an Associate Producer for three episodes of the new season."
You can join the crowdfunding campaign here, and check out older episodes of Mystery Science Theater 3000, as well as join the livestream for Tuesday night's episode, at The Gizmoplex below.
In conclusion, this film has captivated audiences with its mesmerizing storytelling, compelling performances, and stunning visuals. It has transported us to worlds both familiar and unknown, evoking a range of emotions that have left a lasting impact. The director's artistic vision and the collaborative efforts of the cast and crew have brought this story to life in a truly extraordinary way. From the gripping plot twists to the heartfelt moments of connection, this film has reminded us of the power of cinema to inspire, entertain, and provoke thought.
Whether you're a fan of the genre or simply a lover of great storytelling , this film is not to be missed. It's a testament to the magic of filmmaking and serves as a reminder of the profound impact that movies can have on our lives. So grab your popcorn, sit back, and immerse yourself in this cinematic masterpiece.