Summary
The Treasure of Foggy Mountain is a charming, often laugh-out-loud comedy that finds its humor through absurdity and some witty improv.
The chemistry between the SNL cast and their excellent comedic timing makes the anecdotes and dialogue punchy and effective.
The film's main focus is on the theme of friendship, and it uses adventure to demonstrate the power and importance of it, making it a heartwarming and genuinely funny movie.
Deriving much of its comedy through witty improv and ludicrous moments, Please Don't Destroy: The Treasure of Foggy Mountain is a charming, rip-roaring comedy about three friends seeking to rekindle their friendship. The chemistry between the cast and their excellent comedic timing makes each anecdote or frivolous line of dialogue punchy and effective. The story is simple, but it's the film's characters and theme of friendship that give this gut-busting comedy its depth. The pacing here is quick and the jokes come fast, making The Treasure of Foggy Mountain easily one of the best comedies of the year.
Produced by Judd Apatow, fans of comedy classics like Forgetting Sarah Marshall, Superbad, and Anchorman: The Legend of Ron Burgundy will certainly get a big kick out of The Treasure of Foggy Mountain. The movie is equally silly and endearing at the same time, resulting in 90 minutes of that winning combination of raucous laughter and heartwarming sincerity.
Written by and starring SNL's Please Don't Destroy trio of Martin Herlihy, John Higgins, and Ben Marshall, The Treasure of Foggy Mountain follows three childhood best friends turned deadbeat workers Ben, Martin, and John. Ben dreams of owning his Dad's (Conan O'Brien) trout store, Martin is head over heels for his heavily religious girlfriend, and John… well, John just sits at home playing VR poker with 11-year-olds, wishing his friendship between Ben and Martin was what it used to be.
Looking for ways to reconnect, John suggests they all try to find the location of a long-forgotten treasure in the middle of the Foggy Mountains. But the trio must fight off hairless bears, park rangers, and a sadistic cult in order to find the treasure, and their friendship.
The Real Treasure Was the Friends We Made Along the Way
Much like The Goonies or Stand By Me, The Treasure of Foggy Mountain shines at using adventure to demonstrate the power and importance of friendship, letting audiences reminisce about their youth or dream of going on similar adventures with their best friends. The film's main characters are all endearing in their own right, but it's when the trio pulls together that the film really shines.
Related: Best Movie Friendships, Ranked
Seeing Ben, Martin, and John have a blast on their adventure together is utterly infectious. Though they inevitably argue and cause another rift in their relationship, seeing them bridge that gap is rewarding. The message of lost childhood friendship is a powerful one that resonates with audiences. And while the three do ultimately get the treasure at the end, in The Treasure of Foggy Mountain the real reward is, of course, their friendship.
An Endearing Comedic Cast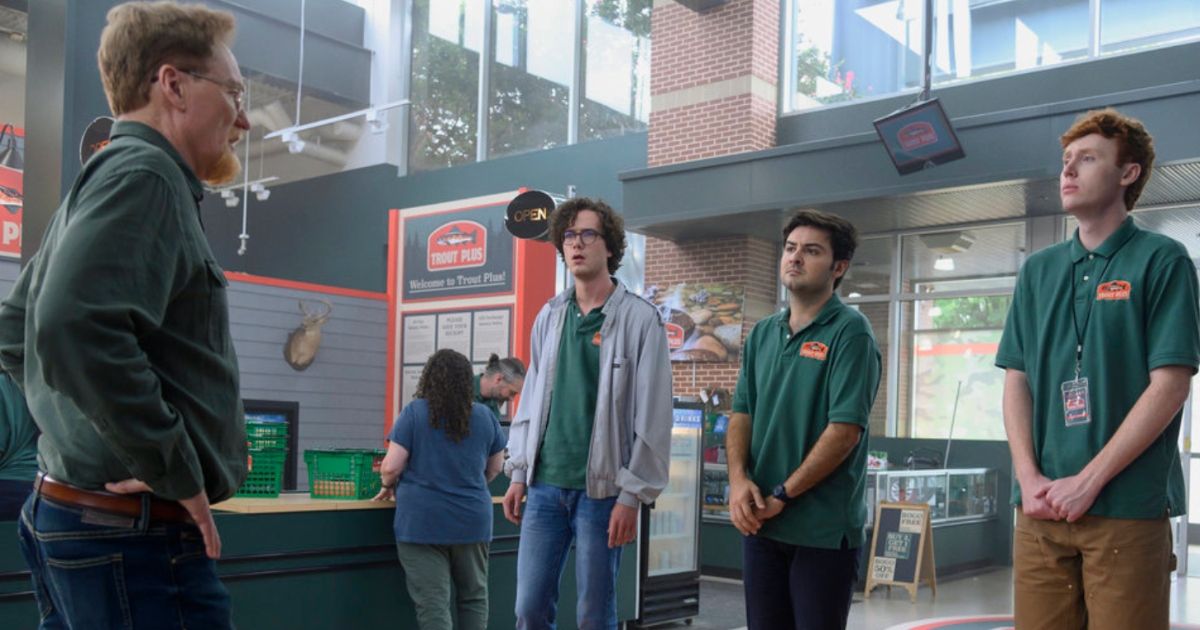 Every member of the cast of The Treasure of Foggy Mountain was on their A-game here, delivering brilliantly timed lines of dialogue and subtle facial expressions that make each joke land perfectly. Marshall, Higgins, and Herlihy have transmittable chemistry that brings their script to life, making their interactions undeniably entertaining. It's not surprising either, considering their history together on SNL performing some hilarious sketches, such as the fabulous "Three Sad Virgins" sketch starring Pete Davison and Taylor Swift.
Related: Every Movie Based on an SNL Sketch, Ranked
Likewise, Megan Stalter and X Mayo offer delightful performances as the two park rangers. Stalter plays a ranger who falls hopelessly in love with John, calling him a supermodel multiple times. Seeing her giddy line delivery when talking to Higgins' character is as endearing as it is funny, and it's her innocent infatuation with John that makes us adore her character so much. Similarly, X Mayo's constant deadpan insults will have audiences cackling. Saying that Martin looks like a character drawn by Tim Burton, and that John looks like "if Danny Devito got a glow-up" are both great lines, sold by X Mayo's hilarious performance.
The supporting cast is equally great, with Conan O'Brien as hysterical as ever. His unnecessary shouting might have been annoying had it been anyone else, but thanks to the late night host's delivery and improv, Conan was a joy to watch. Alongside O'Brien were wonderful performances from Bowen Yang, playing an eccentric cult leader, and John Goodman playing himself as the narrator. Their roles are pretty small, but nonetheless well-done.
Rip-Roaring Improv Comedy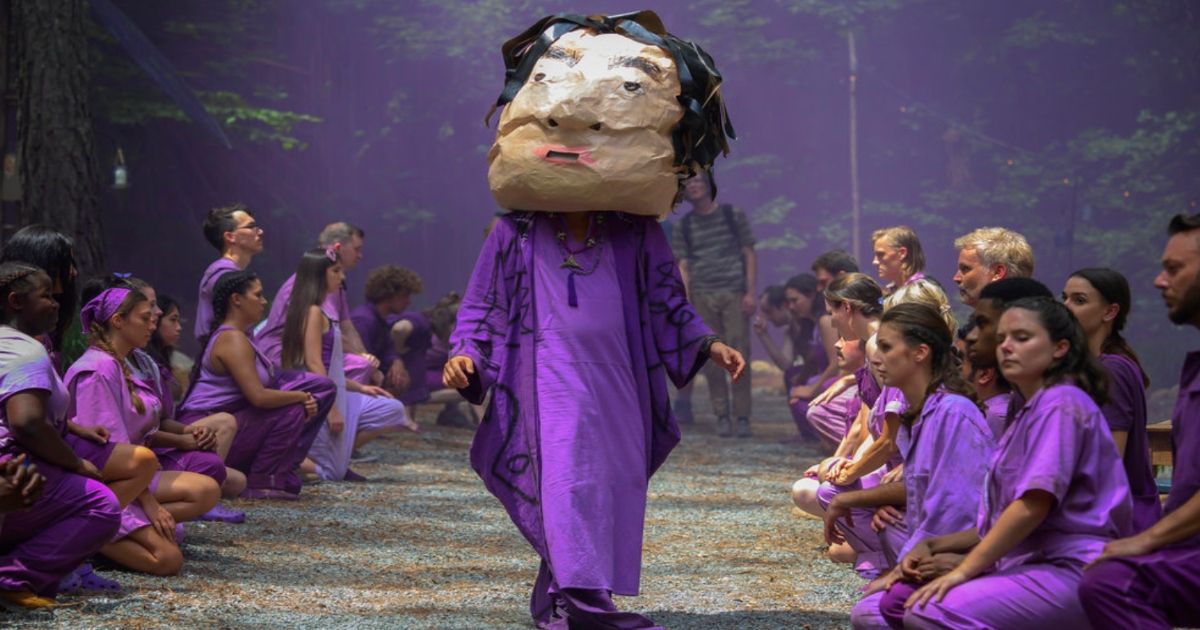 Thanks to a cast with experience like SNL, The Treasure of Foggy Mountain's comedy is predominantly improv. The numerous insults that X Mayo throws at her supporting cast, the many times Conan O'Brien shouts about nonsense, and the hilariously awkward romantic exchanges between Stalter's and Higgins' characters all seem heavily improvised. Alongside the cast's great performances, the breakneck editing and the hilarious context and references behind the jokes make for one of the best and most absurd comedies of the year.
While the majority of the humor feels unscripted, there are still some great narrative moments from the script by the Please Don't Destroy crew. Scenes such as the trio being kidnapped by an eccentric cult leader wearing a giant papier-mâché head which impairs his vision, and a hilarious "all lives matter" moment curtesy of the cult, are among some of the funniest scenes of the film. Yet what takes the cake is the jaw-dropping surprise of seeing Gaten Matarazzo — yes, Dustin from Stranger Things — make a hilarious appearance as himself, before being embroiled in an absurd and hilarious war for the treasure. With such a perfect combination of chemistry, humor, and casting, The Treasure of Foggy Mountain is an instant hit and a silly little gem.
Please Don't Destroy: The Treasure of Foggy Mountain was released Nov. 17 on Peacock. You can watch the trailer and find the link to stream the film below:
In conclusion, this film has captivated audiences with its mesmerizing storytelling, compelling performances, and stunning visuals. It has transported us to worlds both familiar and unknown, evoking a range of emotions that have left a lasting impact. The director's artistic vision and the collaborative efforts of the cast and crew have brought this story to life in a truly extraordinary way. From the gripping plot twists to the heartfelt moments of connection, this film has reminded us of the power of cinema to inspire, entertain, and provoke thought.
Whether you're a fan of the genre or simply a lover of great storytelling , this film is not to be missed. It's a testament to the magic of filmmaking and serves as a reminder of the profound impact that movies can have on our lives. So grab your popcorn, sit back, and immerse yourself in this cinematic masterpiece.