Holiday specials can be some of the best episodes of a television series. Whether long-running or short-lived, it's not uncommon for them to celebrate anything and everything from the Fourth of July to Festivus. With a mix of celebratory filler and a good enough plot, they can become the fan favorite of just about any TV series. Now that Halloween has come and gone it's time to focus on the American holiday of family gatherings, balloon-filled parades, gluttonous get-togethers, and endless shopping. That's right, it's time to talk turkey… or, in this case, Thanksgiving.
Update November 20, 2023: With Thanksgiving fast approaching, this article has been updated by Amanda Minchin with even more great Thanksgiving-themed episodes and where each title is streaming.
Thanksgiving doesn't often get highlighted in film, although this year, audiences will get a slasher movie from Eli Roth appropriately titled Thanksgiving. Thanksgiving though is a popular element in television series, as the holiday is a good excuse to gather a group of characters in a setting and balance plenty of stress. Some series like How I Met Your Mother, New Girl and Bob's Burgers made Thanksgiving episodes tradition the same way The Simpsons and Brooklyn Nine-Nine would do Halloween episodes. With Turkey Day right around the corner, here's a list of the best Thanksgiving episodes in TV history ranked.
10
Bob's Burgers (Season 6, Episode 4)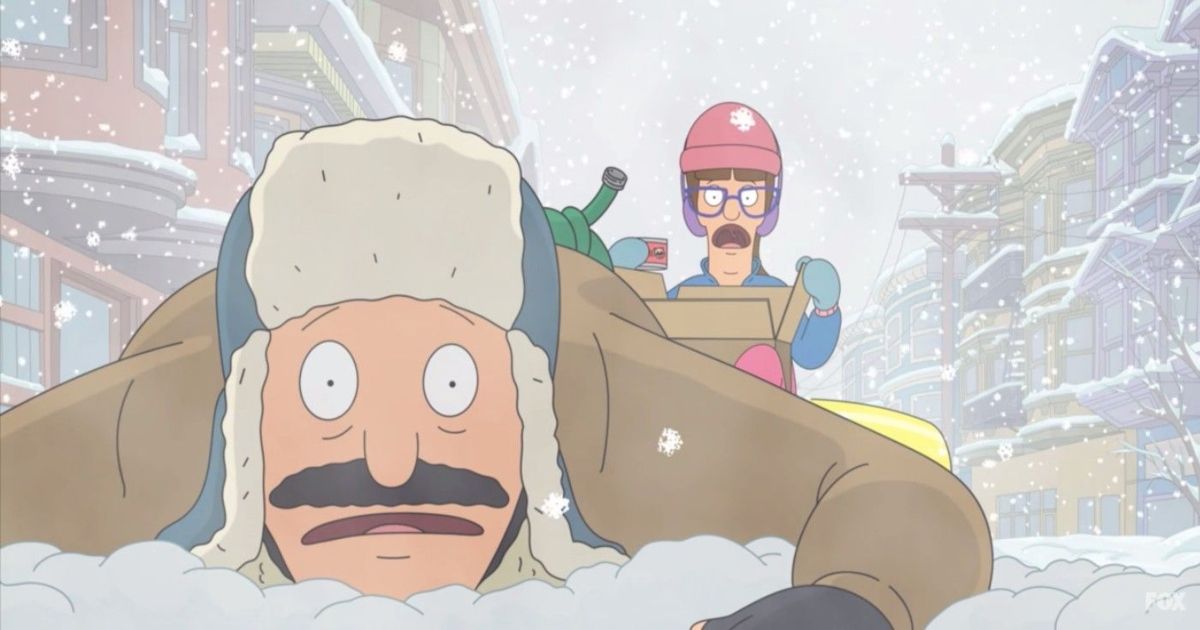 For an animated show about a family running a burger joint, Bob's Burgers sure has a lot of touching moments. While perhaps more well known for their Halloween-fare, its no wonder that their Thanksgiving episodes are also some of the best.
In "Gayle Makin' Bob Sled", the plot revolves mostly around, well, just that. The fun begins when Bob, the ultimate family man, goes out of his way to pick up an injured Gayle, aka Linda's sister, and bring her back in time for Thanksgiving dinner. In doing so, his car gets snowed in. They're forced to trek back on foot and on sled, with Gayle using Bob as a sled. Never one to let go of his vise grip on all things kitchen, Bob is constantly calling his wife Linda to guide her through the process of making his perfect turkey.
What Makes It Great?
The episode is a perfect example of a family coming together for the holidays against the odds. Bob and Gayle are not always on the best of terms, so forcing them together gets at the heart of the season. If there's one thing Bob is meticulous about, it's his culinary masterpieces. Giving up control to his scatterbrained wife surely took a lot out of him! The story practically writes itself.
Stream on Hulu
9
​​​​​New Girl (Season 1, Episode 6)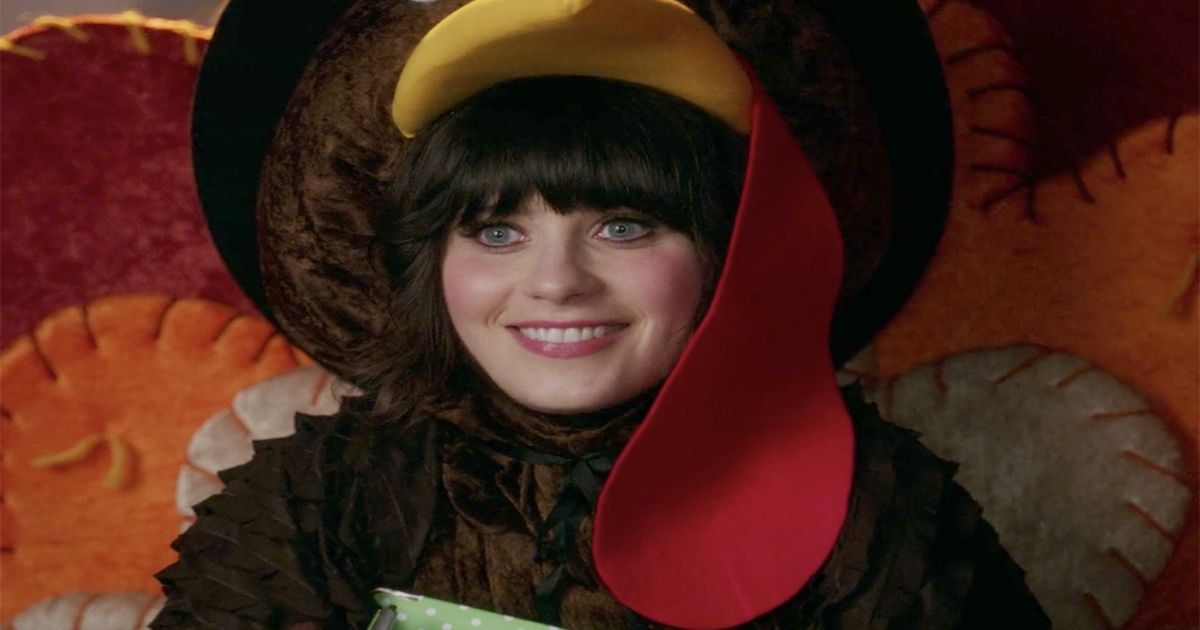 According to Newsweek the hit sitcom New Girl has five Thanksgiving episodes over its seven season run. While each one is special in its own way, the one that makes this list is the first one to air in the series. Titled simply "Thanksgiving". It's so good because this is the gang's first holiday together, and Jess goes out of her way to make it special, despite Nick, Coach, and Schmidt expressing that they'd rather not play into all of her shenanigans. The episode leads to a dryer fire after the gang decides to defrost the frozen turkey in what is undoubtedly one of the most dangerous ways possible.
What Makes It Great?
Friendsgiving is perhaps just as important as traditional Thanksgiving in the cultural zeitgeist. This show was one of the perfect modern-day platforms to showcase this. True to form, Jess is her usual quirky, if not out of her depth self, trying to make everything perfect for the big day. Luckily, she has a few surprisingly down-to-earth roomates to calm her down and perhaps step in when push comes to shove.
Stream on Hulu
Related: The Ultimate List of Holiday Comedies, Ranked
8
Gilmore Girls (Season 3, Episode 9)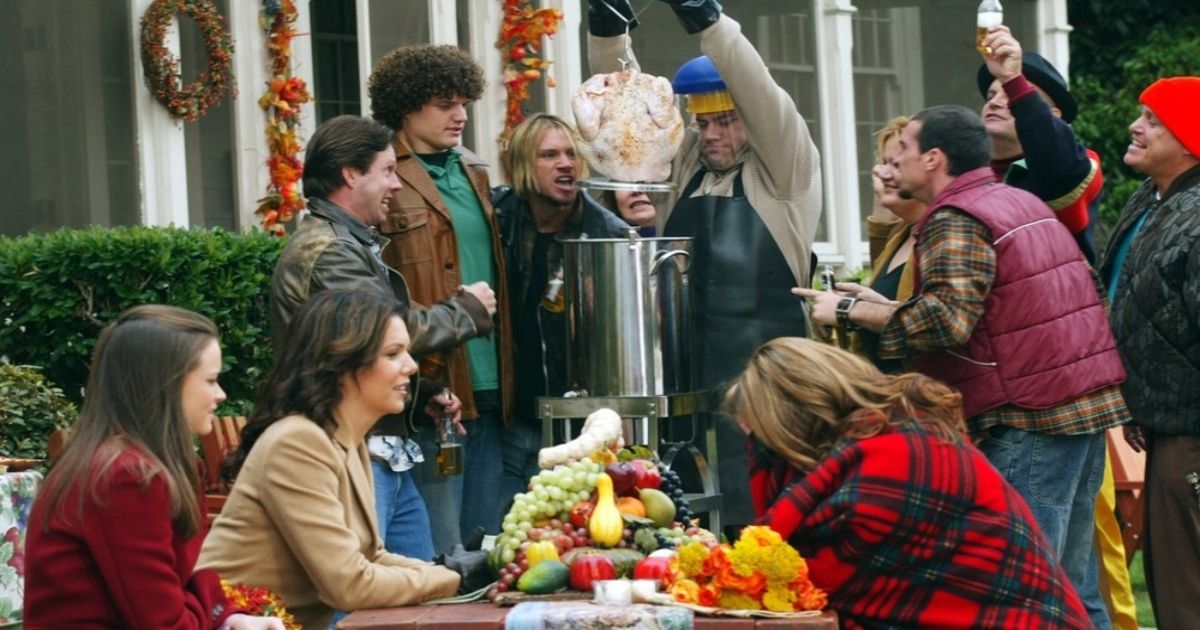 True to form, this heartwarmingly quirky Thanksgiving episode of Gilmore Girls is titled, "A Deep Fried Korean Thanksgiving". The plot is simple – Lorelai and Rory attend four different dinners throughout the course of the day. Lorelai doesn't bat an eye at the thought, proudly stating that this is what her and Rory have been preparing for.
First, they head to Lane's, where they choke down tofurkey. Next up is Sookie's, where they watch her husband, Jackson, deep-fry their turkey in front of his entire family. Then, they head to Luke's, where a few patrons have gathered in his diner to celebrate the day. The final stop is the grandparents' house. It's at that last dinner where Lorelai discovers that Rory has applied to more colleges than just Harvard, which almost ruins the night.
What Makes It Great?
When it comes to Thanksgiving, overstacked portions goes hand in hand with too many dinner plans. While having too many friends and family seems like a good problem to have, it also highlights the need to take care of yourself during the festivities. That being said, this show was ahead of its time for showcasing the many traditions in this fictitious town, which just goes to show that there are many ways to celebrate.
Stream on Netflix
7
How I Met Your Mother (Season 3, Episode 9)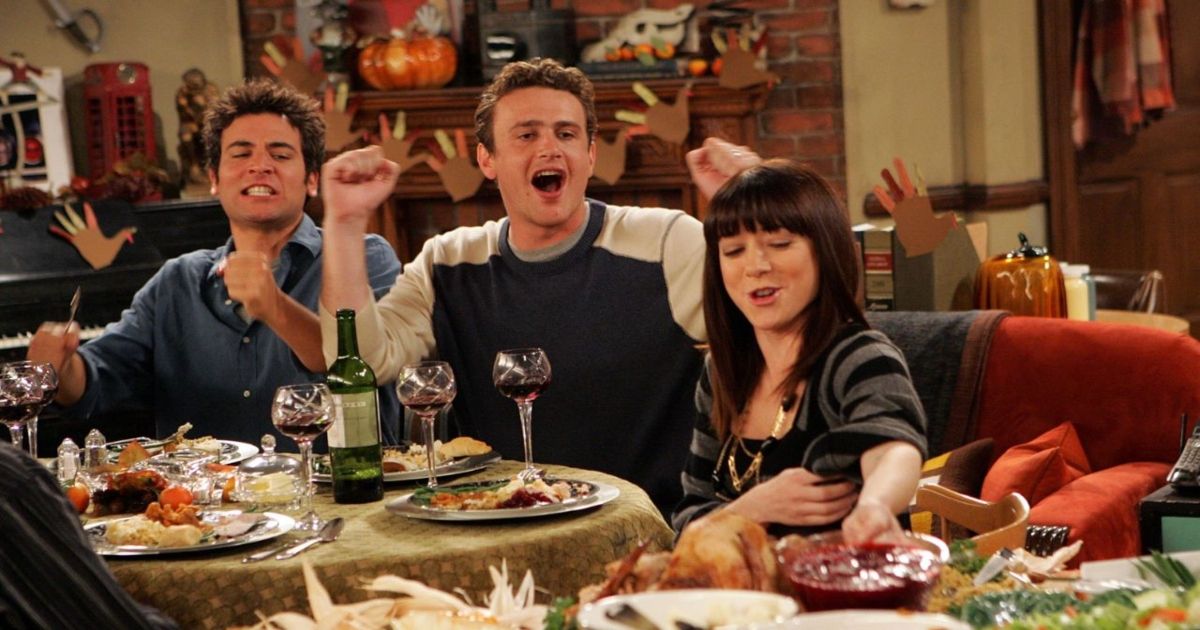 If you're a fan of How I Met Your Mother, then you're well-versed in the Slapsgiving tradition. This Thanksgiving episode explores how the tradition came to be, with Marshall setting the ground rules against Barney. The episode is full of laughs and touching moments, with Ted and Robin also growing closer as they form their inside joke.
What Makes It Great?
Giving thanks can mean looking back at the origins of holiday traditions, no matter how silly they may seem. While Slapsgiving might sound like nothing more than a way to low-key hijack an extra slice of pie, it also introduces an element of fun and playfulness to what could otherwise be a traditionally straight-laced and stuffy holiday.
Stream on Hulu
6
Everyone Loves Raymond (Season 3, Episode 10)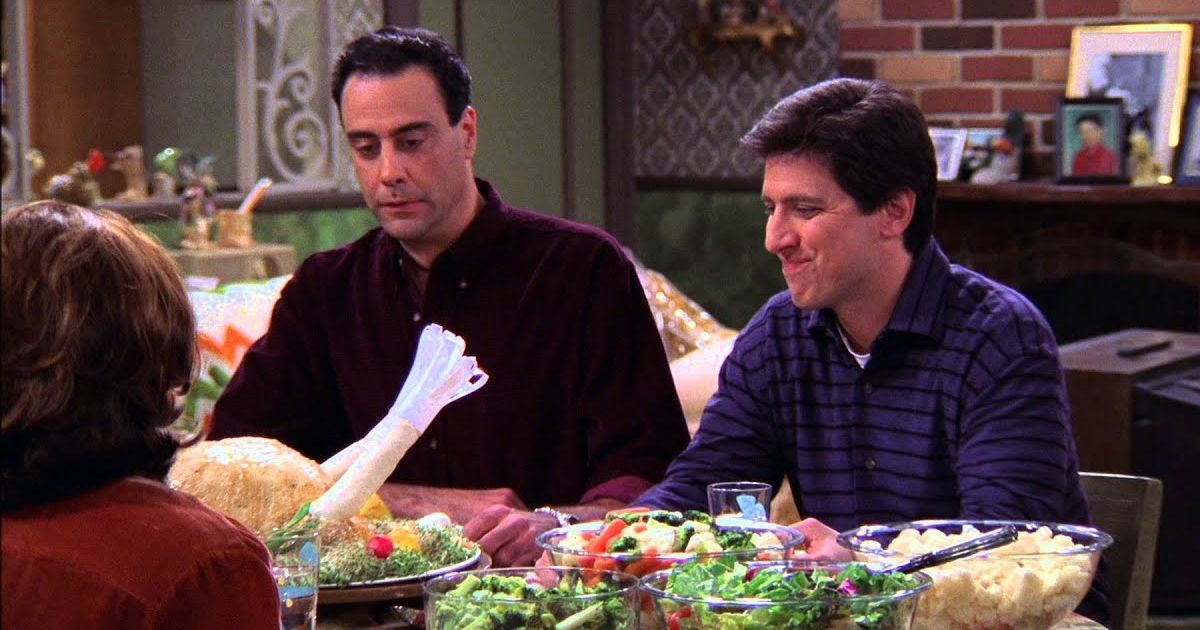 Another oldie but goodie classic comes from the vaults of the sitcom classic Everybody Loves Raymond. Featuring the comedy of Ray Romano, it's not wonder this Italian-American family had its own plethora of Thanksgiving Day episodes. This one, however, takes the cake… literally.
In it, Ray's mother, Marie, decides to cook a healthy holiday meal after getting some bad health news from the local senior health fair. This leads to the infamous 'tofurkey', which, to be fair, is shaped exactly like the traditional bird, right down to the injection of beet juice and Worcestershire sauce for color. In a rare, but unsurprising turn of events, each family member attempts to scarf down the monstrosity bite by excruciating bite. They were saved by the bell, however, by the untimely arrival of a delivery of normal Thanksgiving fare.
What Makes It Great
If there is one lesson to learn from this episode, it's that family traditions, both old and new, are what you make of them. Finding a place that would deliver a four-course meal on Thanksgiving Day in 1998 might not have been easy, but it would not be nearly so unheard of today. Still, in ordering this backup, Ray accidentally upsets his mother by dishonoring her want to do better for herself and her family. By the episode's heartwarming end, however, each one of them sneaks back to Ray's house at the stroke of midnight for the restaurant leftovers, proving that some habits just die hard.
Stream on Paramount+
5
Gossip Girl (Season 3, Episode 11)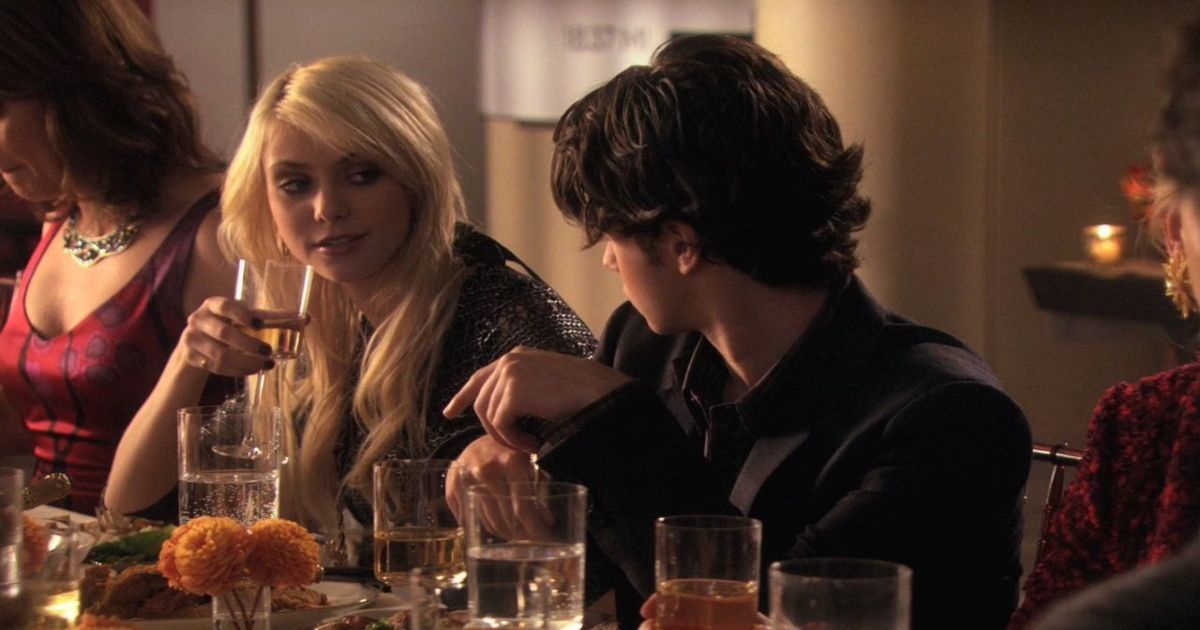 Elite Daily has an entire list of every Thanksgiving episode from the iconic Gossip Girl, ranked by just how dramatic it is. The episode that makes this list, however, is "The Treasure of Serena Madre", which features the "Mmm Whatcha Say" meme that still makes the rounds on social media to this day. In the episode, Serena gets exposed for having an affair with the congressional representative, Eric insults the sweet potatoes, Jenny is the epitome of teen angst, and Rufus is oblivious to all of it.
What Makes It Great?
While many of the episodes on this list mine the holiday for comedic moments, this one integrates normal holiday traditions right alongside their more dramatic elements. As many a so-called civil dinner table can attest, it doesn't take much to light the conversational powder keg when a group of related strangers get together. The fact that these characters have even more in common just makes things all the juicier.
Stream on Max
4
Will and Grace (Season 4, Episode 9-10)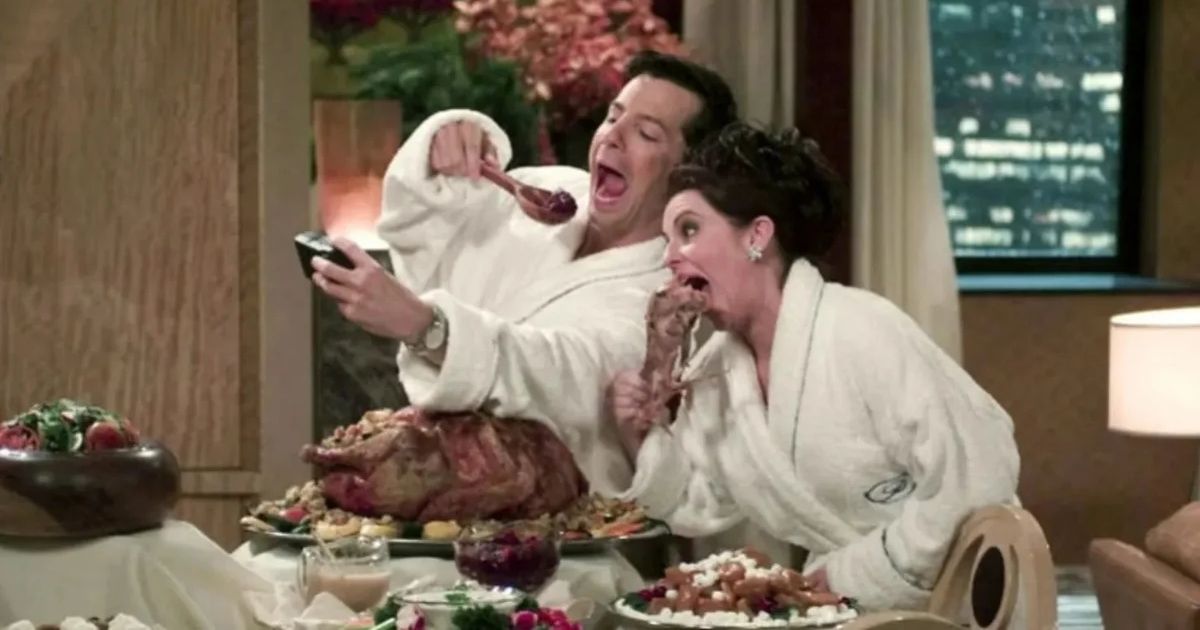 Will and Grace was ahead of its time in so many ways. This Thanksgiving episode is just one of them. The plot for "Moveable Feast: Part 1-2" is simple – the titular duo want to have a simple Thanksgiving with just themselves and their found family. The only problem is that each needs to quickly stop in at a different family member's celebration in order to do it. Their obligations send them, along with Jack and Karen, across the tri-state area, complete with an egg timer to make things fair. Unsettled by the way they each left things hanging with their loved ones, they wind up making the trip twice to sort things out.
Meanwhile, Karen's poor maid, Rosario, is left behind for hours with a fresh-cooked bird, awaiting their eventual arrival. What starts out as a nibble here and a patched hole there unravels into what is perhaps the most iconic shot of the episode, where we see the now starving gang enter to find Rosario passed out over what's left of the carcass. Frankly, who can blame her?
What Makes It Great?
In the true spirit of the holiday season, the cast both upsets and resets their relationships with their estranged family members in the context of a single day. A quick drop-in sounds easy enough, but in reality, the travel time back and forth takes up most of their day. Had they decided to just stay home and ignore their commitments, their day might not have gone to the birds (or, in this case, Rosario).
Side note – This episode is chock-full of cameos, from Nick Offerman to Debbie Reynolds. It also introduces one of Reynold's classic moves as Grace's over-the-top mother. That alone makes it well worth the watch!
Stream on Hulu
3
This Is Us (Season 1, Episode 8)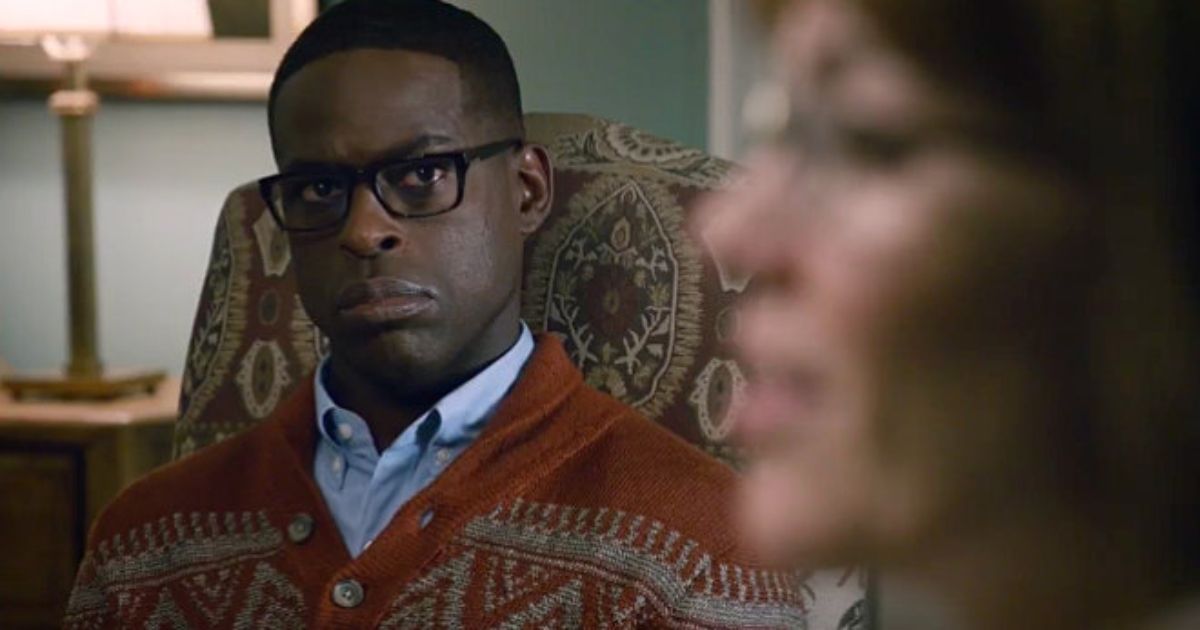 This is Us' first Thanksgiving episode is also its best. Like any drama worth its Kleenex, there's a lot jam-packed into the 45-minute runtime. Randall is made the focus of the episode. He finds out that his adopted mother knew his birth father for his entire life, but never brought the two together. Randall is rightfully upset, and Rebecca scrambles with what to say, as Kevin and Kate watch on in surprise. Needless to say, things get a bit tense at the dinner table after that as they start in on some of his adopted father's beloved traditions.
What Makes It Great?
Titled "Pilgrim Rick", the episode explores the complexity of families during the holiday season, and the drama that complexity can bring. It can be hard to keep a secret of this magnitude from spilling out. The fact that it does, though, is rife with drama. The revelation is all the more reason to maintain open and honest relationships, regardless of the consequences.
Stream on Hulu
2
Friends (Season 6, Episode 9)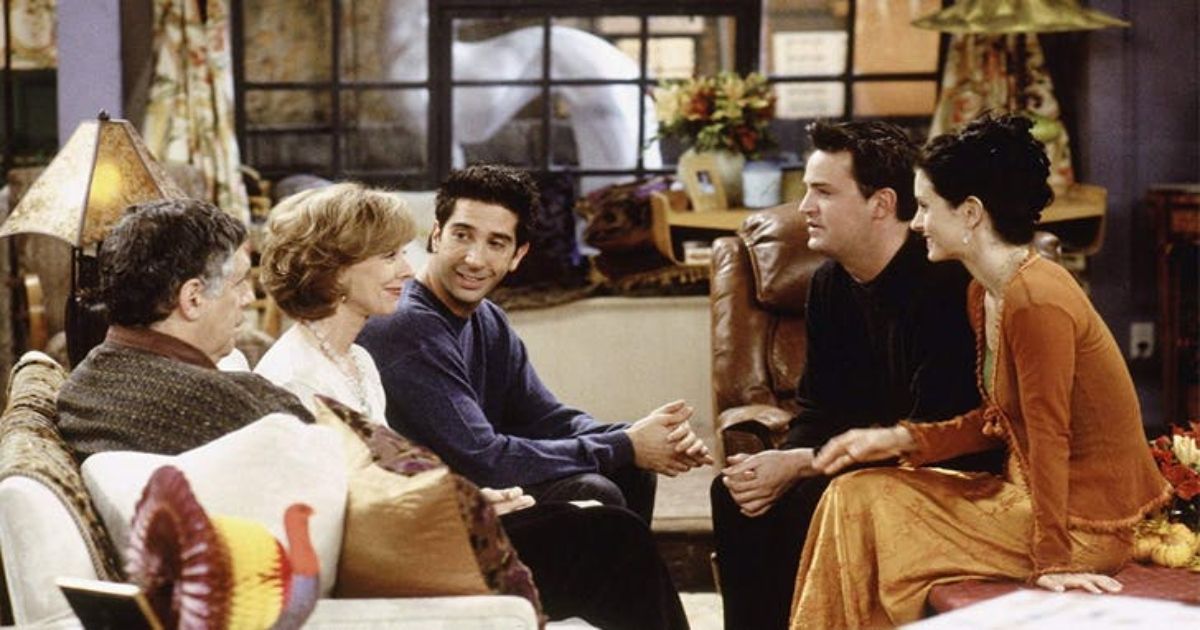 It would not be a proper list if Friends wasn't included in at least one entry. The series is known for their popular Thanksgiving episodes, which is no wonder, considering the location. There are a whopping 10 of them in total.
While an obvious contender for this list is "The One With the Football", where a competitive game of the sport breaks out, it is impossible to ignore "The One Where Ross Got High". In it, Ross and Monica get into a sibling spat that spirals quickly out of control. Soon, they're spilling secrets to their parents, each more shocking than the next. Not to be outdone, Rachel, of course, accidentally makes a dessert that turns out to be not so sweet.
What Makes It Great?
It can be hard not to spill the beans at a family gathering when all you can think about is not saying that one little thing you shouldn't. Of course, the plethora of Tryptophan and booze at the table doesn't help matters. This hilarious episode is jam packed with back-to-back laughs that, with any luck, will mirror your holiday as well.
Stream on Max
Related: Friends: How the Beloved Series Was Often Problematic
1
WKRP in Cincinnati (Season 1, Episode 7)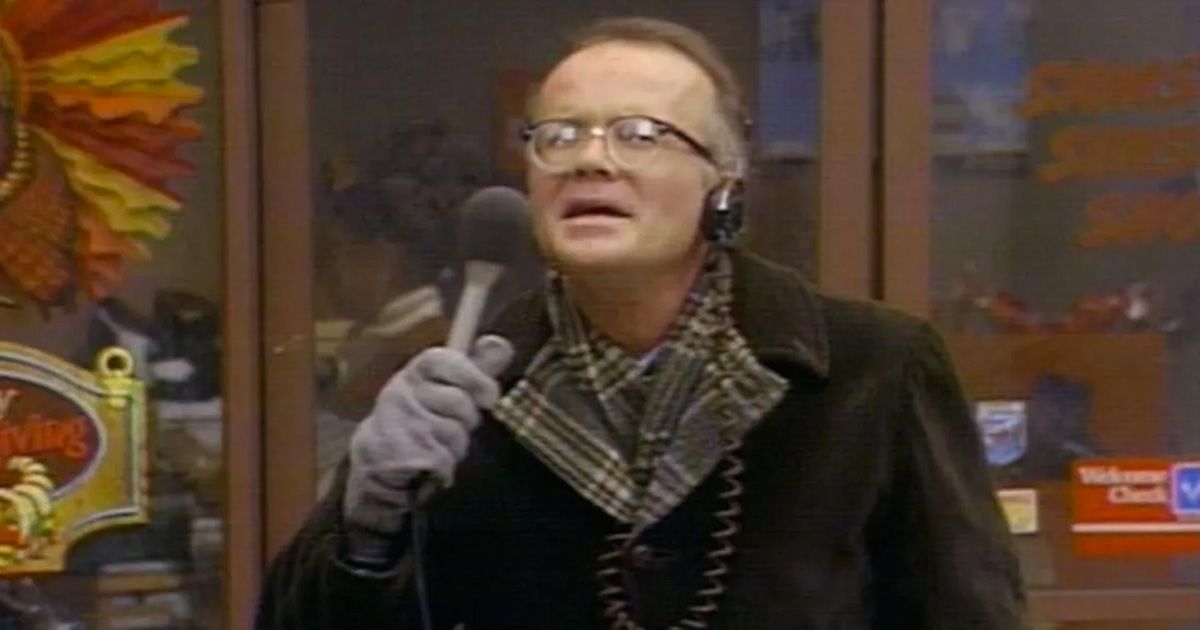 While WKRP in Cincinnati has been off the air for years, its Thanksgiving episode is nothing short of iconic, combining America's love of a good deal with its love for its favorite fowl. The result is the infamous "Turkeys Away" episode in which the station manager approves dropping live turkeys from a helicopter in what seems like a terrifying promo for the station. The result is equal parts catastrophic and hilarious.
What Makes It Great?
This clip from the episode inevitably makes the rounds on YouTube every holiday season and with good reason. It's the perfect example of how well-meaning intentions can go terribly, horribly, yet wonderfully awry during the season. This is why WKRP in Cincinnati takes the top spot on this list as what is quite possibly one of the funniest Turkey Day episodes ever created.
Buy on AppleTV
In conclusion, this film has captivated audiences with its mesmerizing storytelling, compelling performances, and stunning visuals. It has transported us to worlds both familiar and unknown, evoking a range of emotions that have left a lasting impact. The director's artistic vision and the collaborative efforts of the cast and crew have brought this story to life in a truly extraordinary way. From the gripping plot twists to the heartfelt moments of connection, this film has reminded us of the power of cinema to inspire, entertain, and provoke thought.
Whether you're a fan of the genre or simply a lover of great storytelling , this film is not to be missed. It's a testament to the magic of filmmaking and serves as a reminder of the profound impact that movies can have on our lives. So grab your popcorn, sit back, and immerse yourself in this cinematic masterpiece.